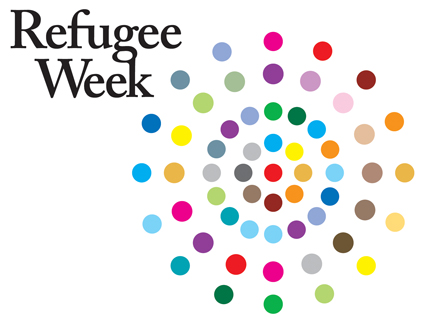 HELLO! IT'S REFUGEE WEEK
We have a whole host of events this refugee week in Sunderland and would love it if you join us for any of these activities.
REFUGEE WEEK 2017 SUNDERLAND JUNE 19TH-25TH

Monday June 19th 'WALK OF SANCTUARY' – Sunderland to North Shields – all day walk to represent the journeys of asylum seekers. Meet at Sunderland Minster 9.30am. Those not walking are welcome for the BIG SEND OFF…
Tuesday June 20th 10am-3pm CEED – 'VOLUNTEERING DAY' IN ROKER PARK – WEEDING, TIDYING AND DON'T FORGET YOUR WELLIES
Tuesday June 20TH 1-3pm 'TEA WITH A REFUGEE' join SCC and FODI refugees in the SUNDERLAND CIVIC CENTRE RECEPTION, Burdon Rd, SR2 7DN
Wednesday June 21st 3-6pm JOIN FODI FOR 'REFUGEES GOT TALENT' with sponsored prizes from FIGHTBACK at St Mary's Parish centre, Bridge Street, SR1 1TE
Thursday June 22nd 2-4pm 'TEA WITH A REFUGEE' at the GENTOO Office, The Athaneum, 27 Fawcett Street, SR1 1RE
Friday June 23rd 5pm Film 'GROW YOUR OWN' at the DAVID PUTTNAM MEDIA CENTRE, SUNDERLAND UNIVERSITY, ST PETER'S WAY, SR6 0DD
Friday June 23rd 8-10pm 'SANCTUARY DANCE NIGHT' all welcome for a night of international dancing with regular Sanctuary DJ at THE INDEPENDENT, 27-28 HOLMESIDE, SR1 3JE
Friday June 23rd all day 'FREE SWIM DAY' – free swimming session for refugees at the AQUATIC CENTRE – drop in anytime.
ALL WEEK LONG – 'JOURNEYS OF ASYLUM SEEKERS' Travelling display telling the stories of asylum seekers and how they got to Sunderland. Display will be at 'Tea with a refugee', Refugees got talent, and other events. Part of our own theme: 'Different Routes, Shared Hopes' or 'Different Roots, Shared Hopes'
For more information contact, Sandra Watt FODI – Friends of the Drop In for Asylum Seekers and Refugees, 07525853913 or email me from the contact page
We also have events the following week to which you are welcome to join us:
Tuesday June 27th 5.30 – 8.30pm 'MULTICULTURAL CELEBRATION' at BEDE TOWER, BURDON RD, SR2 7EA. Fashion Show, music, dancing and food plus activities for children. Do come and join us for this celebration of refugees in the community. All welcome but entrance will be by ticket. Please contact Sandra Watt at FODI or Ram and Shazana at Young Asian Voices on the details below.
Friday June 30TH 10 – 12.30pm 'WOMEN'S GROUP BIG ZUMBA PARTY' join FODI WOMEN'S GROUP for a Zumba class and shared lunch together afterwards. EVERYONE WELCOME
Saturday July 1st 12-4PM 'REFUGEE CELEBRATION EVENT' LIVING WATERS CHURCH, ALICE ST, LAYGATE, SOUTH SHIELDS
For more information contact, Sandra Watt FODI – Friends of the Drop In for Asylum Seekers and Refugees, fodisunderland.org email:fodi.sunderland@outlook.com Tel: 07525853913
YOUNG ASIAN VOICES contact Shazana or Ram – Kamareswaradas Ramanathas email:youngasianvoices@hotmail.com